Norwegian Refugee Council, NRC, says cholera has killed 175 people in Borno, Adamawa and Yobe states, leaving about 10,000 people hospitalised.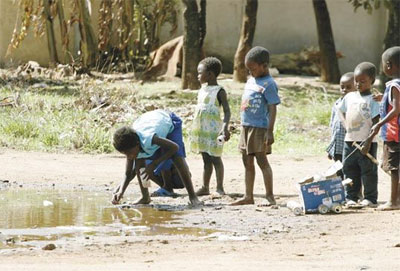 It attributed the cholera outbreak to crowded internally-displaced persons, IDP, camps and host communities.
In a statement yesterday, Janet Chenero, NRC Programme Manager, said there was urgent need for improved hygiene facilities to combat the deadly cholera outbreaks, adding that congestion in camps had made it difficult to provide adequate water, sanitation and hygiene services.
She added that the rainy season had also worsened the conditions in camps and host communities.
Her words: "Number of displaced persons affected by cholera has shot up to 10,000. The disease is spreading quickly in congested IDP camps with limited access to proper sanitation facilities."
Bauchi CSOs charge electorate to demand for water, sanitation services
She called on the authorities to provide more space in camps and host communities for the construction of new water and sanitation facilities.
"If more land is not urgently provided for camp de-congestion and construction of health and sanitation facilities, Nigeria is steering towards yet another cholera outbreak in 2019," she said.
Meanwhile, the International Organisation for Migration, IOM, said Maiduguri has the highest concentration of IDPs, with 243,000 camp-like settlements and crowded host communities.
The organisation said as a result of the concentration, the displaced persons defecate in the open, which in turn causes water borne diseases.
Disclaimer: Opinions expressed here are those of the writers and do not reflect those of nigerianewsgrio.com. nigerianewsgrio.com accepts no responsibility legal or otherwise for their accuracy of content. Please report any inappropriate content to us, and we will evaluate it as a matter of priority.
---
Related Articles
In a crowded industry, talent is not enough to successfully break down boundaries that leads to mainstream acceptance in the Nigerian music scene.Ademola Adebusoye is
Months after traveling around the world, Ema Edosio's first feature movie, 'Kasala' has made its debut at the cinema.The movie, which narrates the everyday struggles
Abuja – Team Edo's women cricketers on Sunday pummelled their FCT counterparts by nine wickets at the ongoing 19th National Sports Festival (NSF) in Abuja.HOWZAT!!
---