By Dirisu Yakubu
ABUJA – The Peoples Democratic Party Presidential Campaign Organization, PPCO, has condemned the alleged stoppage of transactions on all accounts belonging to party's Vice presidential candidate in the 2019 elections Mr. Peter Obi, wife, his family members and their business concerns.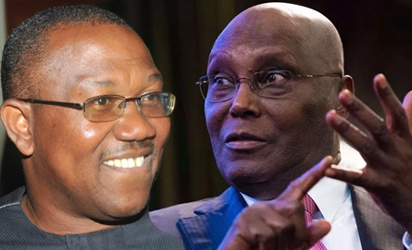 The party said since his nomination, Peter Obi, apart from facing series of failed attempts by the All Progressives Congress, APC, to destroy his reputation; he has continued to receive all manners of threats and blackmail, including threats to his life and those of his wife and children.
In a statement signed by Kola Ologbondiyan, PPCO Director of Media and Publicity, the party accused the ruling party of plot of engaging in smear campaigns to run down it's Presidential candidate, Atiku Abubakar and his running mate ahead of the polls.
The statement read: "Having realized that the majority of Nigerians are rallying behind the duo of Atiku Abubakar and Peter Obi as our Presidential and Vice Presidential candidates respectively, the Presidency and the APC have resorted to all manners of machinations, including smear campaigns and direct attacks on their persons and business concerns, in a bid to run them down.
"The Presidency is intimidated by Peter Obi's resume, particularly, his general acceptance as epitome of fiscal responsibility, frugality and transparency in governance.
"Otherwise, why is the Presidency on a wild goose chase in investigating Peter Obi, who left office as Governor of Anambra state five years ago with a nationally acclaimed clean record, intact reputation for frugality, transparency, zero tolerance for corruption and leaving behind a huge saving of N75 billion naira in cash and investments; without owing any salaries, pensions, gratuities or even contractors for contracts executed.
"The fact remains that the Presidency and the APC are merely shadow boxing in their attacks on Atiku Abubakar and Peter Obi, as their records before Nigerians speak for them.
"All discerning Nigerians know that the reasons for an investigation on a man like Peter Obi, is a journey to no where aimed to stifle him of funds as well as attempt to distract our campaign and divert attention from the failures of the Buhari administration.
"It is ludicrous that President Buhari would continue to condone the looting of our treasuries by his party leaders and the cabal in his Presidency, which even, the First Lady had alluded to, only to be using government agencies to attempt to blackmail our Presidential and vice Presidential candidates whose reputations stand clear before all Nigerians.
"The PPCO reminds President Buhari that neither he nor Vice President Yemi Osinbajo was in 2015, as candidates, harassed, attacked at the airport or subjected to blackmails, and wonder why they are now employing such tactics just because Nigerians have resolved to do away with them, come 2019."
Disclaimer: Opinions expressed here are those of the writers and do not reflect those of nigerianewsgrio.com. nigerianewsgrio.com accepts no responsibility legal or otherwise for their accuracy of content. Please report any inappropriate content to us, and we will evaluate it as a matter of priority.
---
Related Articles
With the advancement in display technologies, the evolution of LCD, LED, OLED, and super AMOLED, Africa's digital signage industry is set to grow leaps and
Download logo The near term macroeconomic outlook remains favorable, although there are considerable downside risks from the fragile security conditions, commodity prices changes, and weather conditions;
AY's reaction to Kevin Ikeduba's now famous video will leave you speechless as he reveals that Nollywood is a back stabbing community.The comedian took to
---