A photo of Zimbabwe president allegedly sleeping at Ghana's 60th Independence celebration has gone viral. The lethargy leader was among the many African leaders who graced the country's 60 Independence Day anniversary parade.
Ghanaians took to social media to share various comments and observations from the former AU leader's presence at the anniversary celebration.
''It's funny my govt has money to send Mugabe to sleep in Ghana and no money to pay its workers. What is Mugabe going to bring from there? '' – Stolen Dreams @Mukoma59 said.
''We thought Mugabe was representing Zimbabwe in Ghana, he was sleeping. Mugabe has two vice presidents but he never let them do assignments. '' – Lucky @maDube_ said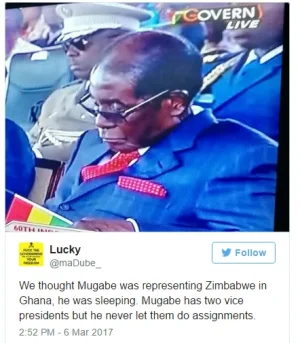 Disclaimer: Opinions expressed here are those of the writers and do not reflect those of Nigeriadailynews.com. Nigeriadailynews.com accepts no responsibility legal or otherwise for their accuracy of content. Please report any inappropriate content to us, and we will evaluate it as a matter of priority.
Related Articles
ABUJA – CHAIRMAN, House Committee on Diaspora Matters, Rep Rita Orji has condemned the alleged lackadaisical attitude of the Federal Government towards the protection of
President Donald Trump's administration has waded into the deterioration of Zimbabwe's human rights situation, following the jailing of two prominent clerics critical of Zimbabwean President
Exiled Gambian ruler Yahya Jammeh has been accused of stealing millions of dollars in his final weeks in power, plundering the country's state coffers and