By Harry Veal
Jun 1, 2011 4:20:00 PM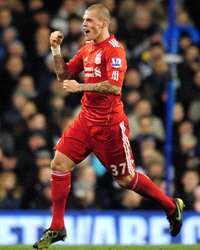 Martin Skrtel - Liverpool (Getty Images)
Related Links
Teams
Players
Liverpool defender Martin Skrtel believes that the arrival of manager Kenny Dalglish at Anfield was the key factor in the club's upturn in form in the second half of the season.

Dalglish was appointed as the club's caretaker manager after the departure of Roy Hodgson, with the club languishing in 12th place in the Premier League, but a fine run of form saw the Anfield club end the season in sixth, just outside of the European places.

Liverpool's revival under Dalglish led to the Scot being handed a permanent contract by the new American owners, and Skrtel is feeling positive about the club's prospects under his leadership.

"Appointing him was definitely the best option," he told LFC Weekly.

"I'm happy because he is a nice person and a great manager. I can see the future under him being very good."

Skrtel also admitted that he had learned a lot about Dalglish's history with the club during his time at Anfield, and revealed that the 60-year-old had lifted team spirit through his positive personality.

"To be very honest I didn't know an awful lot about Kenny [before arriving at the club]. I was very young when he was the manager the first time. But in the four years I've been at the club I have seen him here and have learned about the history of the club and the part he's played in it. Now I know a lot more about him.

"He has told us the most important thing is a good team spirit and if we play together we can get some success. He has kept our confidence high and that has been the most important thing.

"He's done it through his personality. He's a nice guy and he's always joking and smiling. He has changed the atmosphere around the team."

For the latest news and updates from Goal.com, follow our Twitter account and join Goal.com USA's Facebook fan page!

Disclaimer: Opinions expressed here are those of the writers and do not reflect those of Nigeriadailynews.com. Nigeriadailynews.com accepts no responsibility legal or otherwise for their accuracy of content. Please report any inappropriate content to us, and we will evaluate it as a matter of priority.
Related Articles
Brendan Rodgers has been sacked as Liverpool manager. The Northern Irishman was told after Sunday's 1-1 draw with Everton that his three-and-a-half year reign in
Is the Stormin' Mormon any match for the Real Deal? Political heavyweight Mitt Romney, 68, will face off against five-time heavyweight champion Evander Holyfield, 52, on
Public Policy Polling reported Thursday that 34 percent of NBA fans who participated in a recent national poll are pretty crazy (emphasis mine): There's no such