By Adam Scime
Jun 2, 2011 8:00:00 AM
Related Links
Teams
Players
Going into its Euro 2012 qualifier with Estonia tomorrow and friendly against the Republic of Ireland next week, Italy has a plethora of talent in attack.

Coach Cesare Prandelli has called up six high-profile names (assuming we do not include playmaker Sebastian Giovinco as an out-and-out striker) who have a significant number of goals between them this season - making his decision on the structure of his strikeforce a difficult one.

Alberto Gilardino, Alessandro Matri, Antonio Cassano, Giampaolo Pazzini, Giuseppe Rossi and Mario Balotelli have all made their way into the squad, even though the latter is struggling with a knee injury that will at least rule him out of the match on June 3.

Nonetheless, Prandelli must consider a whole host of factors, even versus the rather modest opposition of Estonia, given that Italy could virtually ensure qualification to Euro 2012 with a victory as it leads Group C by five points with a game in hand over their nearest rivals, Serbia and Slovenia.

Goal.com analyses who warrants a spot in the starting XI as Prandelli continues to test a 4-3-1-2 formation in training this week:

ITALY'S STRIKE FORCE | The players staking their claim for a starting place

Balotelli
Cassano

Gilardino

Matri

Pazzini
Rossi


App: 17
Goals: 6
Goals p/g: 0.35


App: 17
Goals: 4


Goals p/g: 0.24




App: 35
Goals:

12




Goals p/g: 0.34




App: 16
Goals:

9




Goals p/g: 0.56




App: 17
Goals:

11




Goals p/g: 0.65

App: 36
Goals:

18




Goals p/g: 0.50




ITALY


Caps: 2
Goals:

0

ITALY


Caps: 22
Goals: 5

ITALY


Caps: 46
Goals: 17


ITALY


Caps: 1
Goals: 1


ITALY


Caps: 16
Goals: 1


ITALY


Caps: 21
Goals: 5


From a purely statistical point of view, Matri, Pazzini and Rossi have the best goals-per-game ratio (in that order) based on their performances at club level, with all three scoring at least once every two matches. Matri and Pazzini have been in particularly good form since their winter transfers to Juventus and Inter respectively, while Rossi's excellent displays for the Yellow Submarine have seen him linked with a

€30 million transfer to Champions League winners Barcelona.

But goals are not the only decisive stat: how a player fits into a tactical system, current form, and fitness will also play a key role.

Physical problems of course rule out Manchester City man Balotelli, who despite his undoubted talent had a relatively difficult year in England, and has only made two appearances under Prandelli due to constant injury and behavioural problems.

Cassano's role will be more difficult to decipher, while he has been a regular feature of

MATRI OR PAZZO?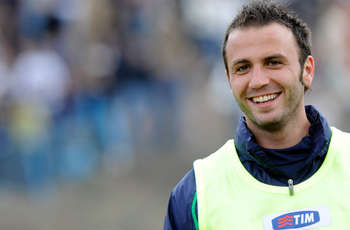 "Pazzini is more dependent on the service...but the better finisher of the two"

Prandelli's reign, his lack of playing time with AC Milan may push him out of contention, as the national team tactician recently hinted. Despite his nominal minutes played, Cassano is the one Azzurri player who can add a touch of magic and create something from nothing, shown by his eight assists since his January transfer to San Siro, so his presence cannot be totally discounted. Nonetheless, he is not a prime candidate for this tie for the above reasons.

Fiorentina's Alberto Gilardino may boast the most experience and goals of the six, but his form for club and country has dipped seriously this season and a starting spot is out of the question.

Conversely, it's been a coming-of-age season for Rossi and he should be included in the starting XI without hesitation. As a bonus to his exploits with his Spanish club, he also has scored in the Azzurri's last two matches against Germany and Ukraine. The New Jersey-born player is the man of the moment.

That leaves the final place to be decided between Matri and Pazzini. The former started his Italy career in impressive style, much like Pazzini did a few years ago, by scoring on his debut. However, Pazzini has failed to score for the Azzurri in 15 more appearances, and in contrast Matri still needs time on the pitch to prove his worth.

While Matri is a more complete player than the Inter star, Pazzini is more dependent on the service afforded to him but the better finisher of the two and deserves the nod ahead of the former Cagliari hitman for his proficiency in the area.

Should Cassano improve his consistency and time on the field and Balotelli live up to his potential then they are the front-runners - but form should be taken advantage of in this case, and that means Pazzini and Rossi need to be leading the Italian attack come Friday evening.
Disclaimer: Opinions expressed here are those of the writers and do not reflect those of Nigeriadailynews.com. Nigeriadailynews.com accepts no responsibility legal or otherwise for their accuracy of content. Please report any inappropriate content to us, and we will evaluate it as a matter of priority.
Related Articles
Brendan Rodgers has been sacked as Liverpool manager. The Northern Irishman was told after Sunday's 1-1 draw with Everton that his three-and-a-half year reign in
Is the Stormin' Mormon any match for the Real Deal? Political heavyweight Mitt Romney, 68, will face off against five-time heavyweight champion Evander Holyfield, 52, on
Public Policy Polling reported Thursday that 34 percent of NBA fans who participated in a recent national poll are pretty crazy (emphasis mine): There's no such