By Stefan Coerts
Jun 2, 2011 6:40:00 AM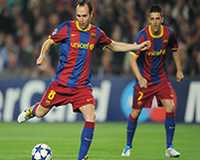 Andres Iniesta - Barcelona (Getty Images)
Related Links
Teams
Players
Barcelona's Andres Iniesta has voiced his opinion that the unsavory events during the Catalan club's Champions League semifinal against Real Madrid will not affect the atmosphere among Spain's national side.

The 2010 World Cup winners play their first match since the Clasico clashes when they take on USA in an international friendly this Saturday in Boston, and Iniesta stated that despite some ill-feeling among La Roja's stars across the two highly charged matches, the players are focused on giving their best for the national side.

"There are no problems and if anyone has one, I hope they will say so, but I can't say more, because I have not had that sort of attitude," he told the media. "We are with the national team now and all have the same objective here. Some ugly things happened, but everybody has to do what he thinks is in his best interest."

Iniesta then briefly looked back at Barcelona's 3-1 Champions League win over Manchester United last weekend, and admitted that it is the final that has given him the most satisfaction in his career.

"I enjoyed it a lot, it's the best final that I have lived and the one that I enjoyed the most," he said. "It always looks easier from the outside, but this time I felt very comfortable on the pitch. We controlled the game and I always knew we were going to score. It was the perfect way to finish the season."

The attacking midfielder also took the time to respond to Manchester United manager Sir Alex Ferguson's praise for the Catalans.

"To hear praise from Sir Alex Ferguson makes it all worthwhile. You have to give value to a result when other professionals agree with the result," he said.
Disclaimer: Opinions expressed here are those of the writers and do not reflect those of Nigeriadailynews.com. Nigeriadailynews.com accepts no responsibility legal or otherwise for their accuracy of content. Please report any inappropriate content to us, and we will evaluate it as a matter of priority.
Related Articles
Brendan Rodgers has been sacked as Liverpool manager. The Northern Irishman was told after Sunday's 1-1 draw with Everton that his three-and-a-half year reign in
Is the Stormin' Mormon any match for the Real Deal? Political heavyweight Mitt Romney, 68, will face off against five-time heavyweight champion Evander Holyfield, 52, on
Public Policy Polling reported Thursday that 34 percent of NBA fans who participated in a recent national poll are pretty crazy (emphasis mine): There's no such