By Aaron McLoughlin
Jun 2, 2011 5:45:00 AM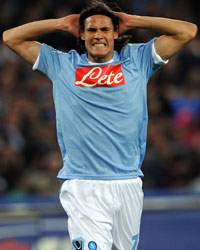 Edinson Cavani - Napoli (Getty Images)
Related Links
Teams
Players
Manchester City coach Attilio Lombardo says he hopes the club open talks with Napoli over moves for

Edinson Cavani, Marek Hamsik and Ezequiel Lavezzi

.

The trio has all been linked with moves away from Italy after an impressive season in Serie A, although Cavani looks unlikely to leave having only joined the club on a permanent deal last month.

Lombardo, who also admits that Napoli is unlikely to allow Hamsik and Cavani to leave at the same time, believes the trio would be successful at any club. 

"I hope there can be some negotiations between Napoli and Manchester City, especially as I'd see one of their three forwards would really suit City," Lombardo told Radio Crc. "I doubt they'd release Hamsik and Cavani at the same time."

"Manchester City are tracking many players because this club wants to do well, to win and to become the most important side in Europe," he added.

Lombardo also revealed that although the club was tracking Udinese's Alexis Sanchez, a deal is unlikely and the Chilean is set to stay in Italy.

The forward has been linked with a move away from Udinese, but with Inter and Juventus also reported to be interested, Lombardo expects the player to stay in Serie A.
Disclaimer: Opinions expressed here are those of the writers and do not reflect those of Nigeriadailynews.com. Nigeriadailynews.com accepts no responsibility legal or otherwise for their accuracy of content. Please report any inappropriate content to us, and we will evaluate it as a matter of priority.
Related Articles
Brendan Rodgers has been sacked as Liverpool manager. The Northern Irishman was told after Sunday's 1-1 draw with Everton that his three-and-a-half year reign in
Is the Stormin' Mormon any match for the Real Deal? Political heavyweight Mitt Romney, 68, will face off against five-time heavyweight champion Evander Holyfield, 52, on
Public Policy Polling reported Thursday that 34 percent of NBA fans who participated in a recent national poll are pretty crazy (emphasis mine): There's no such