By M.J. Somoni
Jun 2, 2011 4:37:00 AM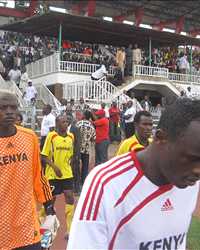 Kenya Captain Dennis Oliech leads Harambee Stars to the field
When the Kenya national team left for Angola on Tuesday morning, it had thought that the earlier departure would allow the team time to acclimatise with the weather conditions and playing grounds, as the players prepare ahead of the crucial clash with Angola's Palancas Negras on Sunday.
But by Wednesday evening, the team had not left its hotel or found a space to train since arriving the day before. Furthermore, the team was booked in a sub-standard hotel and has not been informed of the time and place where the match will take place.
The Stars players told The Standard from Angola that their preparations have been affected after the hosts abandoned them once they arrived.
Striker Allan Wanga said he had told the traveling squad to expect a hostile reception from thee  ne hosts.
"I had warned the team to expect such treatment. We are not even sure when or where the match will be played. We hear it may be 45km away from the capital," Wanga said.
Team captain Dennis Oliech said the person who dropped his side in its hotel had disappeared and  Kenya could not get him for any further assistance.
"We are just sitting in the hotel looking at each other. We have not trained and we do not know when that will happen. Apparently our hosts were expecting us on Friday.
"The team officials have tried to get hold of the person who dropped us at the hotel, but they cannot. He has turned off his phone hence cannot be reached, but we are hoping for the best," he said.
Oliech also claimed the team has been put up in a sub-standard hotel in Luanda.
Follow Goal.com on

to get the latest soccer news directly. Check out Goal.com's

page; be part of the best soccer fan community in the world!
Disclaimer: Opinions expressed here are those of the writers and do not reflect those of Nigeriadailynews.com. Nigeriadailynews.com accepts no responsibility legal or otherwise for their accuracy of content. Please report any inappropriate content to us, and we will evaluate it as a matter of priority.
Related Articles
Brendan Rodgers has been sacked as Liverpool manager. The Northern Irishman was told after Sunday's 1-1 draw with Everton that his three-and-a-half year reign in
Is the Stormin' Mormon any match for the Real Deal? Political heavyweight Mitt Romney, 68, will face off against five-time heavyweight champion Evander Holyfield, 52, on
Public Policy Polling reported Thursday that 34 percent of NBA fans who participated in a recent national poll are pretty crazy (emphasis mine): There's no such