By Daniel Edwards
Jun 2, 2011 12:00:00 PM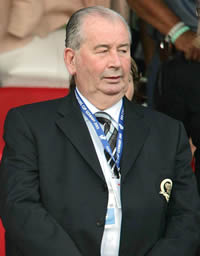 Julio Grondona - AFA - (Mexsport)
Related Links
Teams
Argentina FA president Julio Grondona launched a scathing attack on coach Sergio Batista, claiming that Wednesday's 4-1 drubbing at the hands of Nigeria had threatened the country's reputation.

Playing a team composed of mainly Under-25 players, the Albiceleste was taken to pieces in Abuja on the way to a comprehensive defeat. Mauro Boselli was the only one to get on the scoresheet for his nation, converting a penalty awarded in bizarre circumstances in the 98th minute of play.

Speaking from Buenos Aires, the long-time head of Argentine football was furious at the result, and warned that such things were not acceptable for the Seleccion.

"These games are not just to make money, Batista asks for them. You cannot raffle off the prestige of our national team," 'Don Julio' fired to Radio Mitre after watching the game.

He accused Batista of underestimating Nigeria by putting out such an inexperienced team, which cost Argentina dearly.

"You cannot play against Nigeria, who put in their best players, with a team that was not up to their level."

Grondona finished by slowing down his invective, admitting that such games are sometimes useful to gauge the current levels of fringe players.

"The Seleccion has a certain hierarchy and sometimes it is useful to see if it is in our favour to organize these games," he somewhat cryptically concluded.

The Argentina 'B' team next faces Poland this Sunday.
Disclaimer: Opinions expressed here are those of the writers and do not reflect those of Nigeriadailynews.com. Nigeriadailynews.com accepts no responsibility legal or otherwise for their accuracy of content. Please report any inappropriate content to us, and we will evaluate it as a matter of priority.
Related Articles
Brendan Rodgers has been sacked as Liverpool manager. The Northern Irishman was told after Sunday's 1-1 draw with Everton that his three-and-a-half year reign in
Is the Stormin' Mormon any match for the Real Deal? Political heavyweight Mitt Romney, 68, will face off against five-time heavyweight champion Evander Holyfield, 52, on
Public Policy Polling reported Thursday that 34 percent of NBA fans who participated in a recent national poll are pretty crazy (emphasis mine): There's no such